Cassie Hart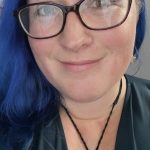 Cassie Hart (aka J.C. Hart and Nova Blake) is a Māori (Kāi Tahu, Makaawhio) speculative fiction writer who enjoys delving into human nature in all its beauty and disarray.
She lives with her husband, three daughters, and assortment of animals in beautiful Aotearoa.
Stalwart Badass. Hugo finalist. Collaborator. Active day-dreamer. Māori/Pākehā. She/her.
Panelist Links