INTRODUCTION
Welcome! The 2022 Nebula Award Conference Online has a few accessibility features. These include:
Automatic closed captioning for all panels and the Nebula Awards ceremony.
Audio-only engagement.
Low sensory virtual table in our social space.
Recordings of panels and presentations, with closed-captioning, for review at the participant's leisure.
Social opportunities that do not require cameras, microphones, or speakers.
In this document, we cover:
This is an evolving document meant to reflect the needs and questions from the community.
If you are watching the panels or awards through Airmeet, there is an option to turn on automatic captioning for yourself.
This option is located at the bottom middle of the screen ("CC").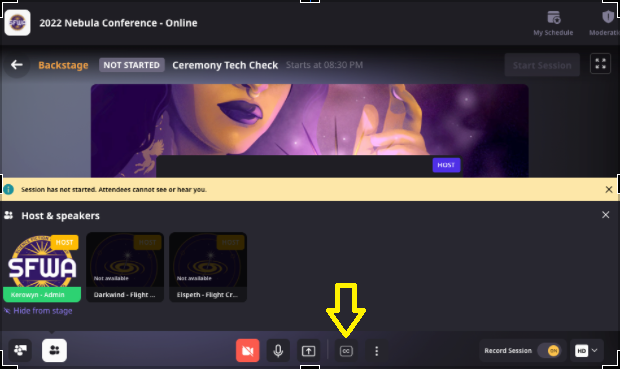 Here's a video on the exact location and how to change the subtitle language:
ADDING ALT-TEXT FOR PHOTOS
Adding alt-text for images posted on Twitter and websites help low-visibility users and/or users with sensory processing issues with photos online. This is also helpful when a tweet or website does not load properly.
There are two ways to do this on Twitter. When tweeting from a Twitter's website:
Create new tweet and add the picture.
Click "Add description" from the below the picture.
Enter description text and hit "Save".
Publish tweet.
When using Twitter's mobile app:
Create new tweet and add picture.
Tap "+ALT" on the bottom right corner of the picture.
Add description text and hit "Save".
Publish tweet.
Some good practices for writing good alt text:
Be short and specific.
Don't include "Image of" or "Picture of".
Don't repeat yourself.
Include any text that is in the image, i.e., writing on T-shirts or banners.
At the bottom of this article there are some examples of good and bad alt texts.
https://supercooldesign.co.uk/blog/how-to-write-good-alt-text
HOW TO ACCESS PANELS AFTER THE CONFERENCE
Because of the nature of virtual cons, we realize that not all members will be able to attend all the panels because of health, family demands, time zones, etc. However, the panels will be recorded and accessible to all conference members through April 2023. Simply return to this events.sfwa.org website and find the panel you want in the archive to view.
QUIET/LOW SENSORY VIRTUAL ROOMS
The Social Lounge features a low-sensory room, requiring that mics and cameras be turned off to interact.
CONCLUSION
If you have accessibility questions or concerns at any point during the conference, please reach out to email the Events Team (events@sfwa.org).
Please fill out this form.
Thank you!