It's not required for Nebula Conference attendees to take part in the shared world aspects of our intergalactic voyage aboard the Airship Nebula … but doing so may make your experience out of this world!
Social Media Sharing
Use #Nebulas2023 to share your excitement about the Nebula Conference and Awards on Twitter and Instagram, and for liveblogging panels and events.If you're on a panel, check your speaker assignment email for a link to promotional graphics that you can use!
Airship Porthole
The Airship Nebula has cruised through many different galaxies on its voyages, and our online passengers have enjoyed being able to share the view outside their cabin portholes via their Zoom backgrounds. As we are docking on Earth for this year's Anaheim Port-Of-Call, this year's view will be of our own Milky Way galaxy, as seen from the troposphere.


Attending passengers are encouraged to download that video to their own Zoom platforms. Here are the steps for adding your porthole to your Zoom background:
Click the three dots to the right of the video menu and download the video to your device.
Print and cut out this graphic.
Hang it on the wall behind you.
Upload the video to your Zoom video library using the "+" button in the Backgrounds and Filters menu.
Click "I have a green screen" in the same menu.
Then select your new background! Zoom should automatically fill in the green space in the porthole with your view of the Milky Way.
Star Deity
Each year, the Nebula Star Deity is invoked to preside over and inspire our Airship Nebula passengers. This year's deity, created by artist Lauren Raye Snow, "…conjures hope from the most desolate places. The rose surrounding her unfurls into magical, asteroid-like petals, bringing beauty (and with it, resilience and strength) to the far-flung reaches of our universe."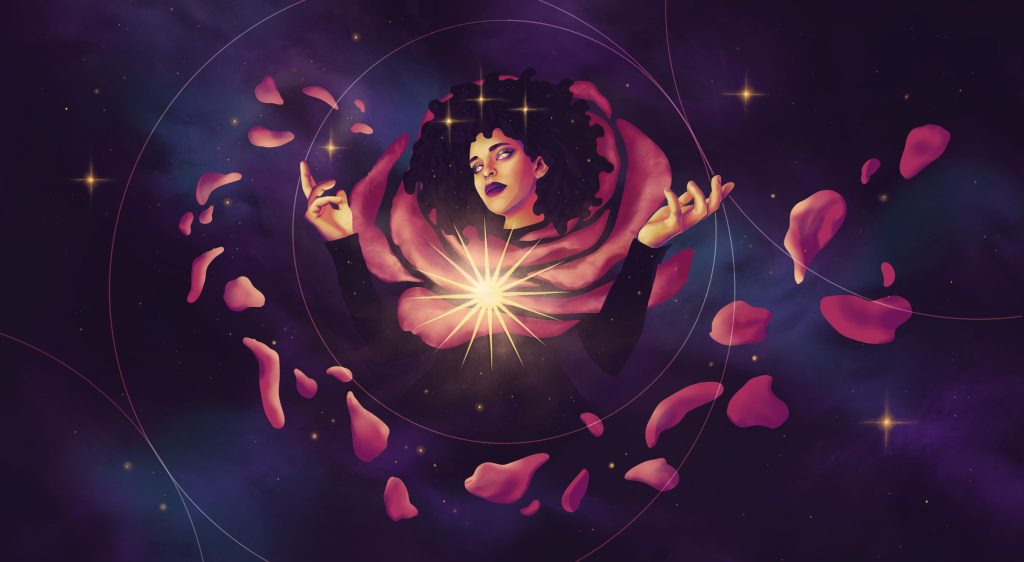 The Star Deity also pays tribute to our current year's Grand Master Robin McKinley, with reference to the roses featured in her Beauty cover art.